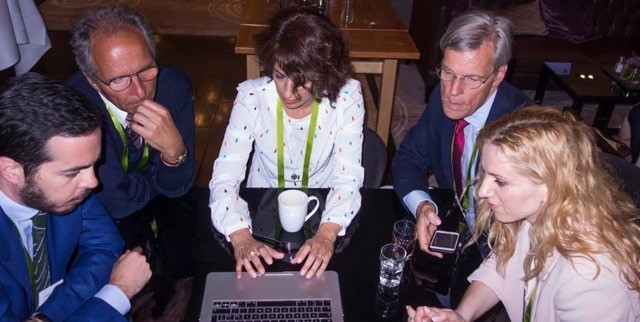 Steering committee heads down: from left, Georgios Lainas (Deputy), Peter Humaidan (Deputy), Daniela Romualdi (Co-ordinator), Frank Broekmans (Past Co-ordinator), Julia Bosdou (Junior Deputy)
We are still receiving positive feed-back from our Campus meeting on the 'neglected' luteal phase, which was held in Hamburg last May. The event, with more than 200 attending, shed light on many grey areas of the luteal phase in everyday practice. The meeting's success was due in large part to the powerful guidance of local organiser Georg Griesinger, who recognised the educational needs in this controversial area of reproductive medicine. Several lectures from this course are available for ESHRE members on our e-learning platform.
Our precongress course in Barcelona on PCOS attracted 333 participants, with an excellent team of international speakers. The sessions covered physiopathology, diagnosis, and long-term health risks for women and their offspring.
The official launch of the new international evidence-based guidelines for the assessment and management of PCOS was considered one of the highlights of the Annual Meeting and attracted the attention of a huge audience - a full house, with standing-room only. We are proud to have taken a part in its development.

Upcoming events for 2018-2019
We have an exciting and interesting programme of upcoming activities for 2018-2019. Our next Campus event, on Optimising fertility preservation for women, will be held in collaboration with the SIG Fertility Preservation in Copenhagen on 25-26 October. This course will have an emphasis on surgical and laboratory approaches for cancer patients and non-oncology cases, including transgender, Turner syndrome, endometriosis and elective fertility preservation candidates.
We are also pleased to announce our upcoming Campus course on the new international PCOS guidelines, which will be held on 23-24 May 2019. The workshop is designed to provide an update on the pathophysiology, diagnostic and therapeutic issues for PCOS, including prevention of risks, as recommended in the new guidelines. The programme is already available on the ESHRE website.
We are also expecting to introduce our new guidelines on ovarian stimulation in 2018-2019, and a Campus course designed around these guidelines is more than attractive and will be a priority in our future plans.
You can follow news of these and other activities on our Facebook and LinkedIn pages. To date, our Facebook page has more than 750 followers, so come and join us! We look forward to meeting you at our future meetings.

Daniela Romualdi, Co-ordinator SIG Reproductive Endocrinology
Julia Bosdou (Junior Deputy)