FERTILITY PRESERVATION
Women who survive cancer less likely to achieve a pregnancy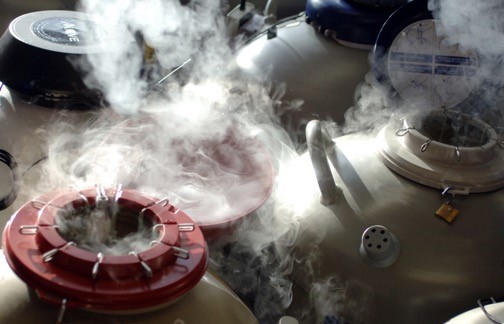 For the first time, a large population study quantifies the effect of cancer and its treatment on the chances of pregnancy.
A cohort study linking three decades of Scottish Cancer Registry records with maternity hospital discharge data has indicated that female cancer survivors are considerably less likely to achieve a pregnancy than those in the general population.(1) Fewer pregnancies were achieved across all cancer types, with marked reductions for cervical and breast cancers. This is the first time, according to the authors, that a large population study has quantified the chance of pregnancy after a cancer diagnosis and treatment in girls and in women aged under 40.

The study's lead author Professor Richard Anderson, co-ordinator of ESHRE's SIG Fertility Preservation said: "The present analysis now provides for the first time robust analysis of the effect of cancer on the likelihood of a pregnancy, and of a first pregnancy, after all cancer diagnoses in girls and adult women, up to the age of 39. They highlight the need for interventions to protect fertility in girls and young women with cancer at the time of diagnosis and to support women considering pregnancy once treatment is completed."

The number of survivors of childhood and young adult cancer is rapidly increasing according to studies. The diagnosis and treatment in young women may be associated with reduced fertility but the pregnancy "deficit" in a population is unknown.

This retrospective study, based on all female patients in Scotland diagnosed for the first time with cancer between 1981 and 2012, set out to establish first pregnancy events, including live births as well as those resulting in miscarriage or termination. The investigators found that the overall reduction in the likelihood of pregnancy was 38% among these 23,201 women. A total of 6,627 pregnancies occurred among the cancer survivors when nearly 10,736 would have been expected in a comparable matched control group from the general population.

The rate of first pregnancy after cancer was also markedly reduced. A total of 2,114 pregnancies occurred in 10,271 women, an equivalent of 20.6% compared with 38.7% in the control group. The analysis also found that the chance of pregnancy was reduced in all age groups, and there were clear effects of both chemotherapy and radiotherapy, but no increased risk of miscarriage or still birth among first pregnancies achieved after a cancer diagnosis.

The investigators highlight that pregnancy was reduced for women with all cancer types with the exception of liver cancer. Yet substantial variation was observed between different diagnoses. Pregnancy rates were considerably reduced in women with cervical and breast cancers as well as in skin, brain/central nervous system cancers and Hodgkin lymphoma and leukaemia. The lowest reductions were recorded in those with colorectal and thyroid cancers.

The period when the cancer was diagnosed was also a factor. Indeed, the research suggests that the impact of cancer treatments on fertility has reduced for young women. Pregnancy rates for those cancers diagnosed between the 2005-2012 study period were higher than those identified from 1981 to 1988. However, Professor Anderson, from the MRC Centre for Reproductive Health, Queen's Medical Research Institute at the University of Edinburgh, says the impact "remains present" and has not improved for later pregnancy or for diagnoses such as leukaemia and brain/CNS cancer.

1. Anderson RA, Brewster DH, Wood R, et al. The Impact of Cancer on Subsequent Chance of Pregnancy: A Population-based Analysis. Hum Reprod 2018; 7; 1281-1290.