IN PROFILE: NILS LAMBALK
The new man in the editor's chair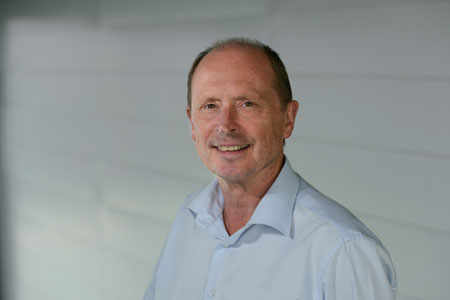 The Dutch gynaecologist Nils Lambalk will take over as editor-in-chief of Human Reproduction in January next year. He talks to Focus on Reproduction about his plans for the journal and the demands which editorship now implies.
Focus on Reproduction: So Nils, another Dutchman taking over as Editor-in-Chief of Human Reproduction. Has your career always been in the Netherlands?
Nils Lambalk: More or less yes. I was a medical student in the Netherlands. I was a resident in O&G, did my PhD there, so have had very little experience abroad apart from a six-month spell in Brisbane, Australia. So I am a fully grounded Dutch person.

FoR: And always Amsterdam?
NL: I did my PhD in Leiden - 30 kilometers from Amsterdam! - but otherwise always Amsterdam.

FoR: And your special interests . . . research, clinical?
NL: Predominantly endocrinology - and it's still very much my favourite subject. I also work in embryo quality assessment and implantation, and have great passion for the biology of twinning.

FoR: So next year, when you take over as editor of Human Reproduction, how will you combine the two roles?
NL: Well, I guess I'm now one of the younger seniors at the university but still, having spoken to Hans Evers, I did think that I shouldn't even apply for the editors job unless I had the time to do it. So I will now step down from some of my university and hospital assignments - and intend to work two days a week as editor of Human Reproduction.

FoR: I guess that's a reflection of the huge demands that editing a journal like Human Reproduction now is. You simply can't do it in your spare time.
NL: No definitely not. If I couldn't have arranged my time, I wouldn't have been interested. That was a premise for applying. I won't be retiring for a few years yet, so that makes me different from previous editors. They had more time available, but I wouldn't have the time without making these arrangements.

FoR: We also have to remember that being an editor of any of the ESHRE journals is really a six-year commitment - two three-year terms usually.
NL: Yes, that's a fact. I'll turn 64 in October, so hopefully I'll last until I'm 70.

FoR: Yes, it's an interesting situation, and I can see that not too many years ahead it will be a full-time job. So it will need either a professional who's a younger person or someone who's completely retired. But whichever, it seems to preclude a young active doctor.
NL: I think that a full-time professional editor is maybe the next step. If you listen to what's being said about the future of all medical journals, and how many more papers are now being sent to Human Reproduction, the workload is increasing all the time. And this is one of my personal worries, how I as a person will handle this tremendous workload. This might mean that the working process will change, though I can't see how yet. But suppose that manuscript submissions double next year - as they have this - I can't simply double my commitment.

FoR: No, but we can't get away from the success of Human Reproduction. We've just heard that there were 3.7 million downloads from Human Reproduction in 2017 alone. An amazing figure - and a massive responsibility for you. I'm sure you'll want to maintain that at least - and the impact factor at 5. Will that be a priority?
NL: Yes, the impact factor is still very important. It's our advertising really. It's a measure of quality, but I also think altmetrics will be very important in the near future. For the time being we mainly have to deal with impact factor calculations, and that's what I'll put effort into first of all - to consolidate its present value. But it's still very difficult for me to predict. It depends on so many unknown factors of what makes a well cited paper.

FoR: But it is safe to say that improving the impact factor will be a priority for you?
NL: Yes. But I also have other priorities, to keep up with new developments in communication. These will take a few years, but we have to look at short visual presentations accompanying written reports. Not a boring talking head, but something which attracts interest in the paper.

FoR: So I imagine that if the impact factor goes up, the acceptance rate will go down. An inevitable consequence?
NL: Yes, the pressure is space. And then the big problems are a large number of high quality manuscripts. It seems unfriendly to the authors. But an editor has responsibilities to many people and organisations - responsible for spreading good research, responsible to the journal itself, the publisher and of course the readers. And then there are the patients - who may end up being treated because of what has appeared in our pages. There's a whole array of responsibilities. But to return to acceptance rates, it's a question of responsibility to the journal itself. If you start accepting everything we're moving into a completely different model.

FoR: So how do you see the main journal moving over the next few years? More towards open access, free availability?
NL: Well, we have those functions now. If you pay, there's free access already. Later, after a year, all papers are open. So that's what we have already. So what we have to keep in mind is the special position of Human Reproduction. First, it's still a paper publication appearing each month, so we have to think what that means and whether there's a need for any re-shaping. This will be a continuing discussion over the next few years.

FoR: Yes, but it seems obvious to me that the bulk of what's read will simply be downloaded.
NL: Yes, that's true, so that's something to consider when we look at the future of a print version. But at the same time, what is it that makes someone take Human Reproduction on the plane, and not another journal? What is it they want to read? What brings the journal together? That's something different from just downloading a paper. It's more the appeal of a fully edited journal - an editorial, opinions, comments, correspondence - it's all there.

FoR: And what about competing journals? F&S for sure has done very well in recent years. Do you see them as competitors of Human Reproduction, or companions?
NL: Both. I can look at them as a scientist in which case Human Reproduction would be my first choice - European, a higher impact factor. But I'd also consider the readership. So in some circumstances F&S would usually be our first choice for American orientated work. But in any case, they are certainly not simply competitors and we need to collaborate on a number of general issues concerning the publication of scientific work.

FoR: We should also remember that Human Reproduction is an ESHRE journal and as a Society ESHRE is hugely successful, with a real momentum. So ESHRE too has a responsibility to maintain standards of quality and science. Do you expect the journals to be part of this momentum?
NL: Yes, of course. The titles are permanent flagships. The annual meetings and training courses come and go, but the journals are there all the time. They're a reflection the ongoing scientific integrity of ESHRE.