Against a background of evidence that people have limited knowledge about factors which affect fertility, including age, the International Fertility Education Initiative, now associated with ESHRE's SIG Global and Socio-cultural Aspects of Infertility, is developing a wider international platform for the promotion of fertility awareness and preconception health through public education and research.
The International Fertility Education Initiative, an ESHRE-supported campaign to persuade policymakers of the need for fertility education, is stepping up its efforts to co-ordinate approaches.(1) The long-term aim, said the group's founder and Chair, Professor Joyce Harper from the Institute for Women's Health, University College London, is to improve reproductive health awareness through the life course among adolescents, people of reproductive age, primary healthcare and education professionals, and policymakers. This would be achieved through the development, evaluation and dissemination of educational resources.

The group has defined four strategic goals:
* Research to generate evidence about people's knowledge, attitudes and behaviours relating to fertility and family formation in different countries.
* Develop educational resources for the public and health and education professionals that are inclusive of all communities.
* Evaluate educational resources to establish their acceptability, comprehensibility, and effectiveness in improving knowledge and inclusivity.
* Promote the inclusion of fertility education in health and education policy and practice and advocate a government-sponsored fertility health education programme in every country.

The group has developed a web page where group members' publications are listed (https://www.eshre.eu/Specialty-groups/Special-Interest-Groups/Global-and-Socio-cultural-Aspects-of-Infertility/IFEI/IFEI_Publications) and is working on a summary of existing educational resources, including their aims and coverage. The group is also writing a commentary on the importance of language in fertility education ('Communicating fertility health education: the importance of getting it right'); writing a paper summarising the evidence from studies about people's attitudes towards fertility education; and formulating recommendations on how to evaluate fertility education resources. The group also hopes to establish a Global Fertility Education Partnership with key international societies.

The Initiative's aims were more formally set out in a recent report published in HROpen, which emphasised the importance of generating country-specific evidence about public knowledge and attitudes to fertility and of the need to evaluate existing and emerging fertility education programmes.(2) While the group has expressed a wish to persuade governments to support and adequately fund their country's fertility education, there are still many countries with much work to do. However, the Initiative's web page, found via ESHRE's SIG Global and Socio-cultural Aspects of Infertility, lists countries where fertility education campaigns are up and running, including in Australia, Belgium, Canada, Czech Republic, Denmark, France, Greece, Japan, Portugal, Sweden, and UK.

Although there is a wealth of evidence in support of individualised interventions involving counselling and generic educational materials, the first randomised trial to assess the efficacy of such campaigns has just been announced (in Singapore).(3,4) In this study protocol, the decline in global total fertility rates and an increased age at first childbirth are cited as the reasons behind the study. This has been recently put into stark perspective by the Australia-based andrologist John Aitken, who attributed the decline in human fertility to 'unprecedented' levels to 'a variety of social, educational, environmental and lifestyle pressures associated with modern affluent society'.(5) The question is, he asked, if these trends are reversible. Education clearly lies at the heart of the answer, and Aitken sounded a warning call 'if nothing is done'.

The International Fertility Education Initiative hopes that through their work, some infertility will be prevented and that fewer people will be seeking fertility treatment.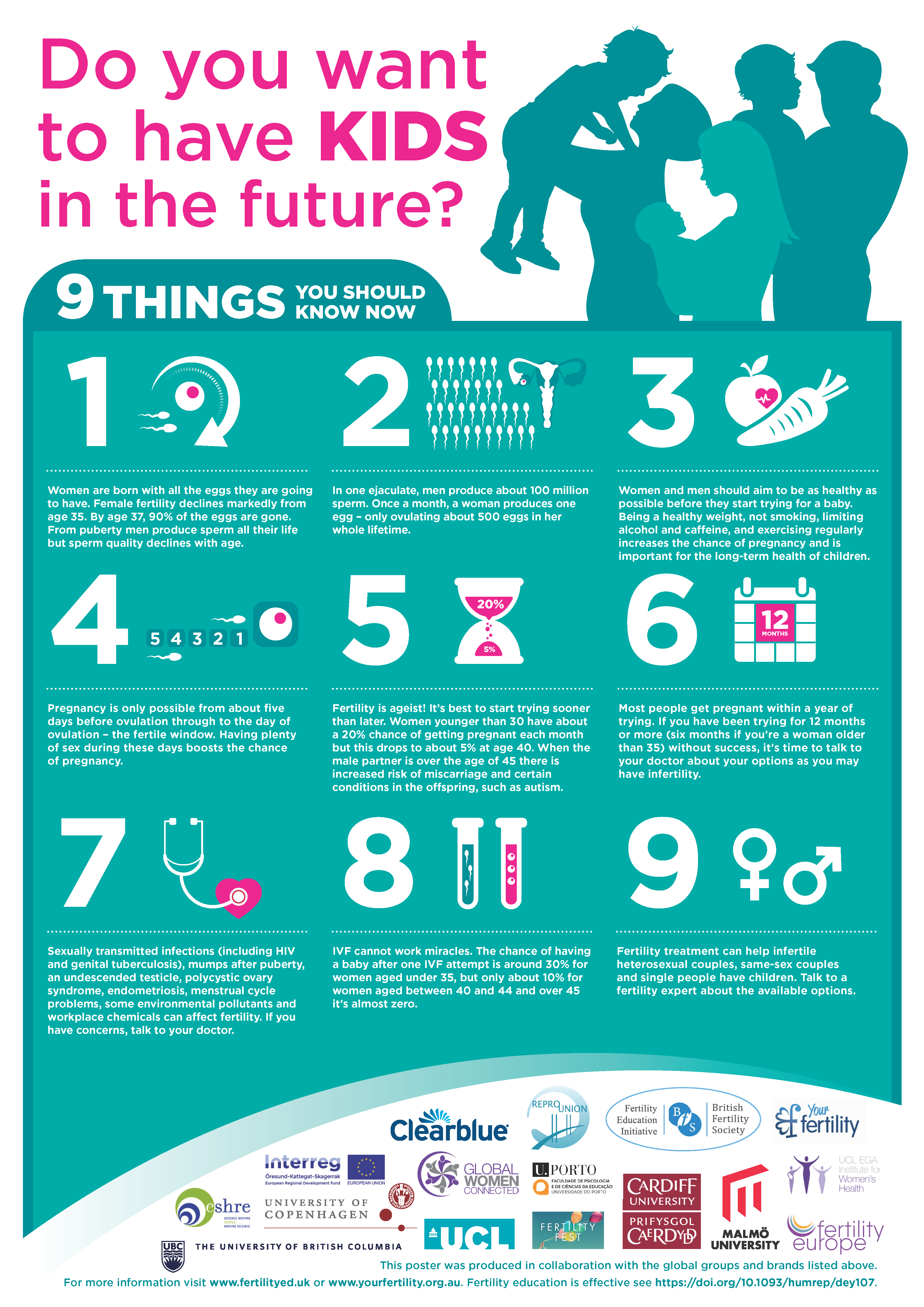 1. See https://www.eshre.eu/Specialty-groups/Special-Interest-Groups/Global-and-Socio-cultural-Aspects-of-Infertility/IFEI
2. Harper J, Hammarberg K, Simopoulu M, et al. The International Fertility Education Initiative: Research and action to improve fertility awareness. Hum Reprod Open 2021; https://academic.oup.com/hropen/article/2021/4/hoab031/6357711
3. Chan SL, Thumboo J, Boivin J, et al. Effect of fertility health awareness strategies on fertility knowledge and childbearing in young married couples (FertStart): study protocol for an effectiveness-implementation hybrid type I multicentre three-arm parallel group open-label randomised clinical trial. BMJ Open 2022; 12:e051710.
doi:org/10.1136/bmjopen-2021-051710
4. See https://www.eshre.eu/Specialty-groups/Special-Interest-Groups/Global-and-Socio-cultural-Aspects-of-Infertility/IFEI/IFEI_Publications
5. Aitken RJ. The changing tide of human fertility. Hum Reprod 2022; doi.org/10.1093/humrep/deac011