Kelly Tilleman, Co-ordinator of ESHRE's SIG Safety & Quality in ART, has led a working group of the European Commission to develop a risk assessment instrument for new introductions in ART. She here reports that the interactive assessment tool of the Euro Good Tissue and cell Practice (EURO-GTP) project is now ready for use.
If you ever have the chance to be part of a project funded by the European Commission, always say 'yes'. Three years ago I agreed to such an invitation when asked to lead a work package in the EURO-GTPII programme aiming to develop a methodology and tools for assessing risks in new introductions in ART. The programme was a follow-up to the EURO-GTPI project which had produced a guide for quality and safety in tissue and cells establishments. 

The scope of this second EURO-GTP project included ART as well as tissue establishments and banks for hematopoietic stem cells.

The evaluation and introduction of innovations in ART has been a recurring theme for ESHRE for several years. In 2014 Provoost and colleagues on behalf of two ESHRE Special Interest Groups proposed a framework for categorising therapies and processes in ART as experimental, innovative and established. The task of this current EURO-GTPII project was to think about the risks associated with novel procedures and how to evaluate them.

ESHRE was an important stakeholder in the project and after three years the interactive instrument for risk assessment is now available for dissemination and use. A meeting in March was arranged to demonstrate the methodology and instrument, with several ART experts and junior deputies from ESHRE SIGs invited for information and feedback.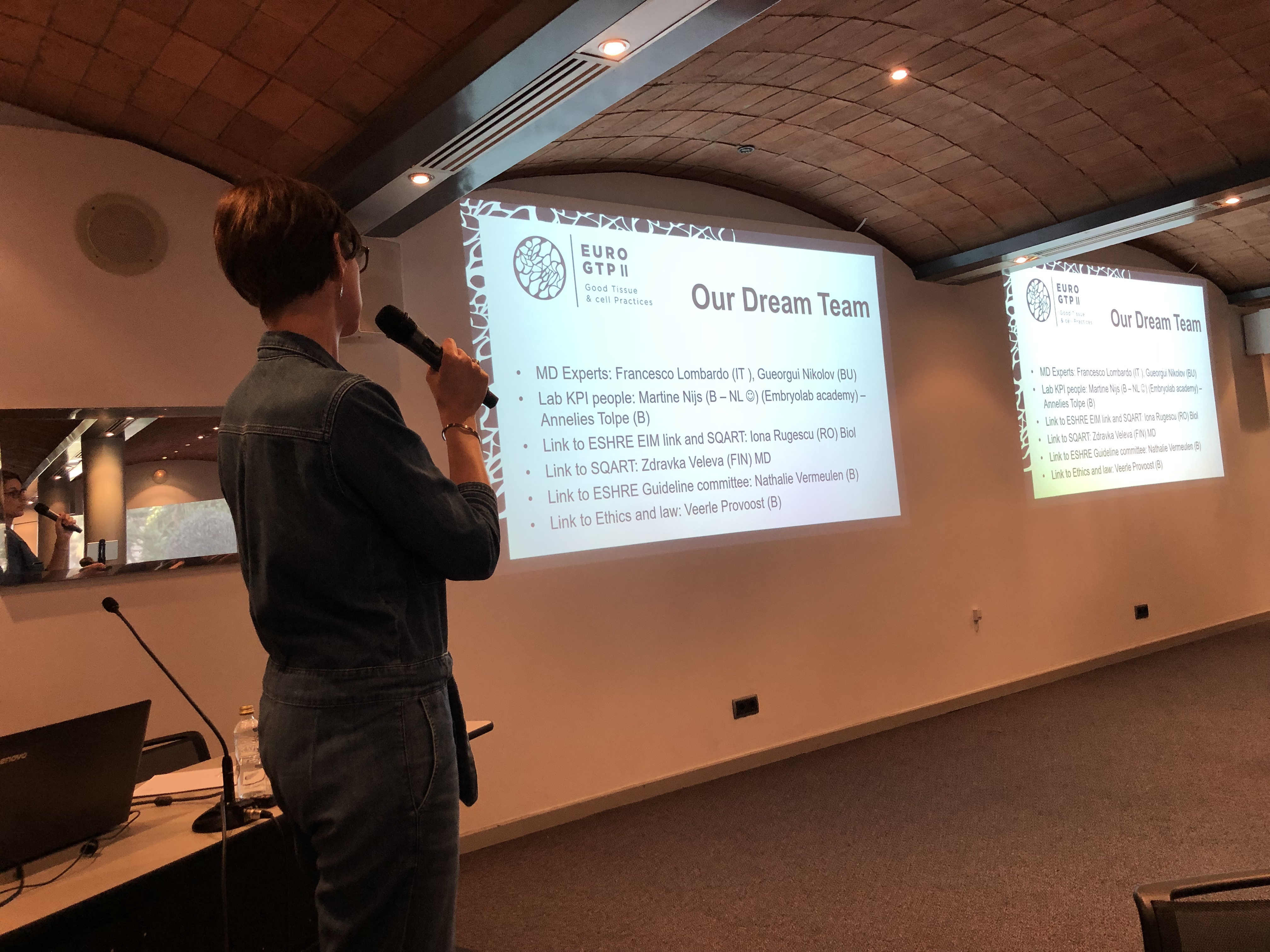 Tilleman speaking at the Euro-GTP meeting in Barcelona, 2019.
The meeting indicated that the project has resulted in a well-structured, web-based tool to perform a risk assessment. It is very user-friendly and amenable to anyone hoping to implement a change in protocol or procedures at any ART centre. Indeed, we shouldn't forget that any change in procedure can have an effect on the safety of our patients and future children, and the need for thorough risk assessment is much needed. In the fast-moving world of ART, we are constantly on the verge of change; new techniques and procedures are always being considered. It is therefore our duty to think about the impact of these changes on the safety of patients and children, and the methodology constructed in this project can help you do this in a structured approach.
No, this instrument might not include every risk specifically associated with change in ART (but it is a good start and new risk factors can be added).
Yes, you might struggle in the beginning with the terminology (remember, this is a tool for all tissue and cell establishments).
And yes, you might feel a bit uneasy using it when you are not used to performing risk assessments.
You can explore the tool by simply looking at the website and downloading the guidance document.
ESHRE's SIG SQART is available to help. If you get stuck, just send us an e-mail and we can help you along the way - or you can join us at a Campus workshop in Palermo, Italy, where the instrument along with other QMS principles will be demonstrated. You can also checkout ESHRE's coverage of this project by listening to two Focus on Reproduction podcasts.
Podcast with Richard McGeehan: 'Risk assessment in ART and implications for the EU directives on tissue and cells'
1. Provoost V, Tilleman K, D'Angelo A, et al. Beyond the dichotomoy: a tool for distinguishing between experimental, innovative and established treatment. Hum Reprod 2014, 29: 413-417.