2021 ANNUAL ASSEMBLY OF MEMBERS
Minutes of the Annual Assembly of Members, held online on Tuesday 1 July 2021 at 18.00 CEST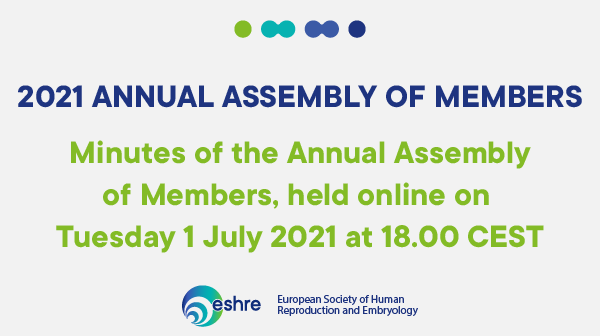 With the slides produced a few days in advance of this Annual Assembly of Members, the Society's Chair, Cristina Magli, in presenting ESHRE's 2021 report via a live link was able to update members on registrations for the annual meeting, which stood at 9244 for the main programme and 3021 for the precongress courses. The Chair said she was 'absolutely happy' with these registrations and expressed her gratitude to all who had made the meeting possible.
1. Minutes of the last meeting held online
- The minutes of the 2020 Annual Assembly of Members (AAM), having been published in Focus on Reproduction (July 2020), were unanimously approved in an online vote of members remotely present.

2. There were no matters arising.

3. Membership of the Society
- Membership of the Society (as of 30 June 2021) stood at 10,731, an increase of 13% on last year's figure and an all-time record membership, largely explained, said the Chair, by a membership requirement for online access to the annual meeting, Campus meetings and webinars.
- European members account for more than half (57%) the total. The top European membership countries are UK (837 members), Spain (552), Italy (480), Belgium (423), Germany (362), Netherlands (358), Greece (294), and Denmark (228). India (657 members) and China (425) now occupy the leading non-European places, with the USA represented by 349 members.

4. Society activities
COVID-19 Working Group
- A 'very active' COVID-19 Working Group was formed by ESHRE on 25 March 2019 in response to the coronavirus pandemic. Since then the group has published nine 'well received' statements on COVID-19 and vaccination, and their effects on ART and pregnancy, including protocols for the reopening of clinics.
- The group has also provided support for clinics in educational activities, which included two webinars (one with a patient focus), and ongoing surveys monitoring ART pregnancies and the impact of the pandemic on ART in Europe. The first webinar, on COVID-19 and ART, was attended by a remote audience of 375, while the second, aimed at fertility patients during the pandemic, had 85 attending. A report on 80 deliveries (plus 25 ongoing pregnancies) from ART centres during the pandemic is now in preparation.
- An additional ESHRE research grant was allocated to COVID-19 for 2021.
- The Chair thanked the group, which is led by Anna Veiga, for its work so far, paying particular thanks to Nathalie Vermeulen, ESHRE's Senior Research Specialist at Central Office. The Chair also thanked members of the Committee of National Representatives and individual clinics for their reporting during the pandemic.

Annual Meeting
- In the face of continuing uncertainty, this year's annual meeting, the Society's 37th, was rescheduled as a virtual event in good time for planning. Registration for last year's event, replanned at short notice, was made free to ESHRE members, while a small fee was charged for 2021. This, suggested the Chair, may well explain the slightly lower number of registrations this year.
- For the first time the full meeting was extended from four to six days, with two days for the precongress courses and four for the scientific programme.
- There were fewer abstracts submitted this year than last (1312 vs 1844), possibly explained by a 'pandemic effect'. However, the very well attended poster discussion sessions were now included in the selected oral presentation sessions, while the precongress course lectures were included in the invited sessions. Several networking events were hosted.
- ESHRE's 2022 annual meeting will take place in Milan as the Society's first 'hybrid' event, thus a live meeting staged at a conference centre as usual but supported by streamed presentations with online opportunities for interaction.

Campus meetings
- The Chair reported that more than 1300 participants had attended six virtual Campus courses in 2020, a high attendance rate – though seven live events were cancelled or postponed.
– Eight Campus workshops were held between January and May 2021, attracting 1693 participants in total. There are three more planned for later this year. Of 30 webinars so far planned for 2021, 17 already staged have attracted 1254 registered participants.
- Most of the programmes from ESHRE Campus workshops and webinars are available on demand via the Society's eCampus platform.

ESHRE accreditation and certification
- Although affected by the pandemic, the Chair described ESHRE's accreditation and certification schemes as still 'very successful'. The certification scheme enables individuals to demonstrate their expertise and competence; the accreditation scheme is for centres as a mark of their quality of service and training.
- Individual certification is now available to ESHRE members in embryology (since 2008), reproductive endoscopic surgery (since 2013), fertility nursing/midwifery (since 2015), and for subspecialist trainees as part of a European Fellowship in Reproductive Medicine (since 2018). The largest programme, in embryology, had 393 applications for the 2020/2021 clinical examination and 254 applications for senior certification. Exams for clinical embryologists were held on 19 June; 49 sat the exams for certification in nursing/midwifery on 12 June; and 16 took part 1 of the sub-specialist exam on 27 June. Exams in endoscopy have been postponed.
- The Chair announced that a new platform for ESHRE's Training Centre Accreditation scheme for subspecialist training will be launched after the annual meeting. Centre applications will now require payment of a fee to cover administrative costs – 500 euro on submission of the application + 1000 euro prior to the on-site assessment visit. There are presently nine centres awaiting accreditation, including six for re-accreditation.
- ESHRE's most recent accreditation scheme, for good clinical practice in ART centres, was introduced in 2019 and presently includes four certified centres, with an additional five in the reporting phase and 17 in the pipeline. All assessment visits are conducted remotely.
- A new accreditation scheme was announced for centres with training in embryology. The scheme is presently directed by a steering committee led by Anis Feki.

Guidelines and recommendations
- ESHRE is involved in the development of full guidelines, with high-quality evidence to support 'everyday clinical decision-making', and recommendations for good practice where scientific evidence is 'limited'.
- ESHRE guidelines fully published or updated are for Endometriosis, Psychosocial Care, Premature Ovarian Insufficiency, Recurrent Pregnancy Loss, Polycystic Ovary Syndrome, Turner Syndrome and Ovarian Stimulation. Published in 2020/2021 was a guideline for Female Fertility Preservation.
- Ten good practice recommendations have been published, the most recent for Terminology for Describing Pregnancies on Ultrasound and the Ethics of Extended Carrier Screening.
- Expected soon are a full update on Endometriosis, an update on Recurrent Pregnancy Loss, a guideline on the number of embryos to transfer in IVF/ICSI, Medically Assisted Reproduction in Patients with a Viral Infection/disease, a good practice recommendation for information provision in reproductive donation programmes, and Key performance indicators for the ART clinic.
- The Chair, describing this portfolio as 'very rich', thanked ESHRE's Central Office and the Committee of National Representatives for their work in this development.

ESHRE research grants
- Two research grants will be awarded for 2020, one of 75,000 euro and one of 200,000 euro. The former invited research projects on 'sperm freezing and function' and the latter on 'protecting and treating male infertility'.
- An additional research grant has been announced for 2021, for 75,000 euro on the 'impact of COVID-19 on patients and/or ART services', and of 200,000 euro on the 'impact of SARS-CoV-2 on reproductive tissues, reproductive cells and/or (ART) pregnancy. More details will be shortly available on the ESHRE website.
- 150,000 euro has been allocated to ESHRE's travelling fellowship programme, which from January 2021 was suspended for six months but is shortly due to resume.

Data collection
- The Chair praised the work of the European IVF Monitoring Consortium (EIM) and PGT Consortium. The EIM group has been collecting data retrospectively since 1997 presently from 40 European countries and is now monitoring more than 900,000 European ART cycles each year – a 'great achievement', said the Chair.
- Data collected for 2016-2017 have now been submitted to HROpen, while preliminary data for 2018 were presented online at this year's annual meeting. Data collection for 2019-2020 is still ongoing.
- Future EIM projects include consideration of new software compliant with cumulative outcomes and with EU data collection.
- PGT Consortium Data XIX-XX (for 2016-17) have been submitted for publication in HROpen. Data for 2018 (XXI) were presented online at this year's annual meeting and will be submitted for publication later this year in HROpen.
- Future projects for the PGT Consortium include adapting the database with aggregated data to decrease workload and encourage increased participation.

EU affairs
- EU affairs have become a very busy and important ESHRE activity, and the Chair thanked the committee's Chair Kersti Lundin for her tireless work in developing strategy plans.
- These plans have five components: to raise awareness of the public health importance of infertility; to develop a harmonised ART registry; revised tissue and cell directives; work plans under Horizon Europe and EU4Health; and advocacy toolkits.

Exchanges with other societies
- The Chair described ESHRE's exchange programmes as 'very active', with the latest Best of ASRM and ESHRE staged online with a high level of registrations – indeed, said the Chair, with more than 1200 registering a greater attendance than seen with earlier live events.
- A combined meeting with the Indian Fertility Society and Indian Society for Assisted Reproduction, titled FUSION, has now been further postponed to 4-6 February 2022.
- The Chair reaffirmed that ESHRE's collaborations with other societies 'will be maintained and further developed', noting exchange lectures and other joint ventures with the Asia Pacific Initiative on Reproduction (ASPIRE), Associacion Latinoamericana de Medicina Reproductiva (ALMER), Chinese Medical Doctor Association of Reproductive Medicine (CARM), Chinese Society of Reproductive Medicine (CSRM), the Cochrane group, Fertility Society of Australia (FSA), International Federation of Fertility Societies (IFFS), International Federation of Gynaecology and Obstetrics (FIGO), Mediterranean Society for Reproductive Medicine (MSRM), and the Middle East Fertility Society (MEFS).

5. ESHRE journals
- Speaking on behalf of the ESHRE journals, Nils Lambalk, editor-in-chief of Human Reproduction, paid tribute to the journals' editorial team working from home during the pandemic restrictions. This single editorial team - for all four ESHRE journals - is supplemented by six statistics/methods editors, 140 associate editors, and 8000 peer reviewers.
- Lambalk announced the appointment of a new editor-in-chief for Molecular Human Reproduction in biologist Michele Boiani from the Max Planck Institute in Germany. He is supported as deputy editor by Francesca Duncan, professor of O&G at Northwestern University, Chicago.
- Lambalk reported that submissions continued to rise throughout 2020 in all ESHRE journals except Human Reproduction Update, which relies largely on commissioned reviews and new meta-analyses. In 2020, for example, HR received 1834 submitted manuscripts, up from 1505 in 2019 and an increase of 22%. Notably, submissions to HROpen, ESHRE's open access title, rose from 87 in 2019 to 127 in 2020. Generally, there had been a 'tremendous' surge in submissions which, Lambalk wondered, might be explained as a 'covid effect'. He expected HR submissions for 2021 to be around 1700.
- Lambalk added that the acceptance rate for HR had fallen from 26% in 2012 to just 17% in 2020.
- Three ESHRE titles, HR Update, HR and Molecular Human Reproduction, are likely to have increased impact factors (for 2020) though a formal announcement from Clarivate was not expected until a few days after the annual meeting.

6. Financial report
- Bruno Van Den Eede, ESHRE's managing director, presented the balance sheet (income and expenditure) for 2020 and the budget for 2021.
- Income in 2020 (2,841,141.32 euro) was well behind 2019 income (9,062,117,58 euro), explained by Van Den Eede by the consequences of lockdown and pandemic restrictions. Similarly, 2020 expenditure (3,407,308,96 euro) was also below that of 2019 (7,859,344 euro), thereby leaving an unfavourable balance on the 2020 accounts of – 566,167.64 euro.
- Van Den Eede explained that the budget projected for 2020 had been severely affected by the coronavirus pandemic, particularly in hasty adjustments to a virtual annual meeting. In all financial reports over the past 30+ years, the annual meeting has been ESHRE's greatest source of income and expenditure.
- Consequently, the budget devised for 2021 was modified by the continuing uncertainty of the pandemic and vaccination programmes, projecting an income of 4,070,212.00 euro, an expenditure of 4,219,873,82 euro and a negative balance of -149,661.82 euro. 'All in all, limited damage,' Van Den Eede assured the Assembly.
- He noted strong revenues from the journals (965,369.55 euro in 2020, which according to ESHRE's agreement with the publisher represents 70% of the journals' profit), added revenue fees from the 'dramatic' surge in ESHRE membership and a decline in many planned congress and meeting expenditures. He also thanked sponsors for their continued support at the annual meeting, which continued enthusiastically in virtual circumstances.
- For the first time, Central Office running costs proved a greater expense than the annual meeting in 2020.
- Total capital at the close of 2020 stood at 18,291,956.66 euro, allocated to funds which, said Van Den Eede, followed an investment policy which was 'very cautious, even defensive'. 'We have a very strong financial buffer,' he reassured members.
- The financial report for the year ending 31 December 2020 and the budget for 2021 were approved by the Assembly members.

7. Ratification of new Executive Committee
- Thomas Ebner (AT), Anja Pinborg (DK), Karen Sermon (BE), Thomas Strowitzki (DE) and Snežana Vidaković (RS) stood down from the Executive Committee having served two consecutive two-year terms.
- With the retirement of Roy Farquharson (GB) as immediate Past Chair, Cristina Magli (IT) completed her term as Chair to replace him as immediate Past Chair. The appointment of Karen Sermon (BE) as Chair Elect was ratified.
- Giovanni Coticchio (IT) completed his term as ex officio ExCo member and Chair of the SIG Committee; he was succeeded by Willem Ombelet (BE) as the new Chair of the SIG Committee.
- Five ExCo members were nominated to serve a second two-year term: Richard Anderson (GB), Baris Ata (TUR), Ioana Rugescu (RO), Valérie Blanchet (FR) and Edith Coonen (NL)
- Five members were nominated to serve a first two-year term: Aisling Ahlström (S), Giovanni Coticchio (IT), Kirsten Tryde Macklon (DK), Verena Nordhoff (DE) and Nikolaos Polyzos (ES).
- The appointment of Carlos Calhaz-Jorge (PT) as Chair of ESHRE and composition of the new ExCo were ratified by the members.
- Before handing over to the new Chair, Cristina Magli extended her deepest thanks to ExCo members, to all ESHRE committees and working groups, and to Central Office for their extraordinary work and continuous support.
- In taking up his post, Calhaz-Jorge thanked all those leaving the ExCo for their dedicated work and especially his 'chair' colleagues Cristina Magli and Roy Farquharson for ensuring such a smooth transition. He additionally gave special thanks to all ESHRE staff running Central Office from home. 'We have a great Society because they are there,' he said.

8. Election of honorary members
- The award of honorary ESHRE membership to the four nominees proposed for 2020 (Basil Tarlatzis and Anders Nyboe Andersen) and for 2021 (Kay Elder and René Frydman) has been postponed until the next live opening ceremony in Milan in 2022 and a fitting opportunity to celebrate their awards.
- The nominees for honorary membership for 2022 were Inge Liebaers, founder of the Centre for Medical Genetics at the Vrije Universiteit Brussel and the hospital's PGT clinic, and the reproductive biologist Massimo De Felici, Professor of Histology and Embryology at the University of Rome Tor Vergata in Italy. These two nominations were ratified by the Assembly.

There were no items raised as any other business.

The next Annual Assembly will be on 5 July 2022 at the annual meeting in Milan at 18.00.