2023 ANNUAL MEETING
Age is a factor in day 3 or day 5 transfer decision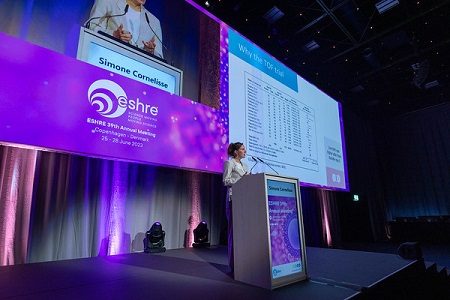 A multicentre RCT finds live births just as likely from cleavage stage embryos as from blastocysts, but older women do better with day-5 transfers
A multicentre randomised controlled trial has found no significant difference in the cumulative live birth rate (CLBR) obtained from the transfer of day 3 or day 5 embryos. However, women aged 36 and over are more likely to succeed with the transfer of a blastocyst.

The findings from the Three or Five (ToF) study, based on more than 1000 IVF/ICSI good prognosis patients in the Netherlands (defined as women with four or more embryos on day 2 of culture), have future implications for embryo transfer policies. In her presentation, Simone Cornelisse from Radboud University Medical Centre in Nijmegen, said clinics should regard age as an important factor when treating these patients.

'In women with four or more embryos in IVF-ICSI there is no overall difference in cumulative live birth rate, but an embryo transfer policy based on age seems justified,' said Cornelisse, adding, however, that the chance of a live birth must also be weighed against factors such as pregnancy loss, time to pregnancy, perinatal risks and treatment costs.

The primary outcome for the ToF study was CLBR per oocyte retrieval, including associated frozen-thawed embryo transfers within 12 months after randomisation. All 1202 patients in the study were recruited from 21 Dutch fertility centres and aged between 18 and 43 years. They were randomly assigned between 2018 and 2021 to either a day-3 or day-5 fresh single embryo transfer, with remaining embryos cryopreserved and patients stratified into two age groups (<36 years or >36 years).

A day-5 transfer policy has now been adopted worldwide because it's regarded as safer, said Cornelisse, based on evidence that only those embryos able to survive make it to day 5 and thereby self-select for transfer, which improves the chance of a live birth.

However, she described most earlier studies as small and focused only on fresh transfers – not on CLBR – which has meant that not all patients may actually benefit from a day-5 policy. These same earlier studies have also produced conflicting results, with some showing a higher LBR after fresh transfer at day 5, but others no difference between blastocyst and cleavage-stage transfers.

As expected, results showed a significantly higher LBR with fresh day-5 transfers than day-3 (37% vs 29.5%). However, the odds of an ongoing or clinical pregnancy were 30.2% vs 37.6% and 33.3% vs 40.3% respectively, which Cornelisse described as 'borderline significant' but still in favour of day 5. Pregnancy loss for the day-3 vs the day-5 group was 12.5% vs 9.8%.

The results revealed no difference in CLBR for the day-5 group and day-3 group (58.9% vs 58.4%), but a different picture emerged when CLBR was analysed by age group. Cornelisse said there was a clear effect in favour of day-5 embryos among women aged 36 and over (52.1% vs 43.1%) which became even more marked from the age of 37 onwards. The CLBR for women aged 36 years and under was 62.6% for day-3 and 67.1% for day-5.

The risk of a preterm birth (32-37 weeks' gestation) for women with blastocyst transfer was nearly double that of day-3 transfers (8.8% vs 4.6% respectively), which Cornelisse said was in line with the literature. Other results such as small for gestational age showed no difference.

The authors are now carrying out further research into treatment costs and outcomes in poor prognosis patients.