ANNUAL MEETING 2020
Cumulative delivery rates in European ART continue to rise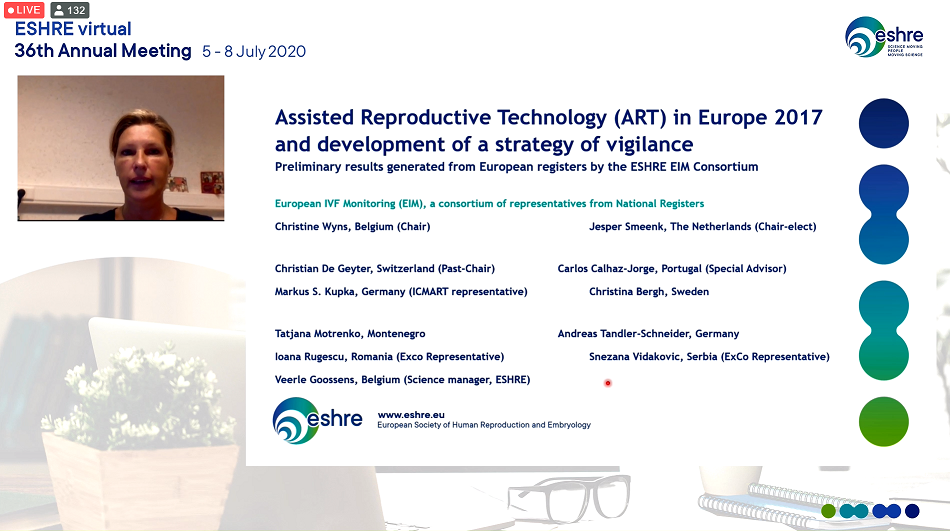 Professor Christine Wyns, chair of ESHRE's EIM Consortium, presented preliminary data of ART activity in Europe for 2017.
Preliminary European monitoring data for 2017 show a slight decrease in pregnancy rates per aspiration, though rates per transfer and from frozen cycles continue upwards; plus a continuing decline in the number of twin deliveries.
Despite inconsistencies in the type of data submitted, some with full compulsory data, others from voluntary schemes, preliminary figures from ESHRE's European IVF Monitoring (EIM) consortium for ART Activity in 2017 show a continuation of trends emerging from other recent reports – a small increase in pregnancy rates per transfer, a reduction in the number of transfers with more than one embryo, and a decline in the number of twin and triplet deliveries. These trends, said EIM chairman Christine Wyns in her presentation to ESHRE's virtual annual meeting are apparent in data from 34 countries, 1333 centres and almost 1 million cycles in 2016 – with almost 200,000 infants born. Some countries, said Wyns, have been held up in their data submissions by the coronavirus pandemic.

Leading the way in Europe are three countries performing more than 100,000 cycles a year – Russia with 137,211, Spain with 125,592, and France with 108,820. Thus, for the first time Russia is now doing more ART than any other European country. Overall, ICSI remains Europe's favoured fertilisation method over IVF (380,000 cycles vs 160,000), but frozen embryo transfers now account for around one half of all cycles, a rapidly growing trend over time.

Belgium, Czech Republic, Denmark, Norway and Slovenia continue to provide more ART than other countries, each with cycle availability above 1500 per million population. This threshold rate, said Wyns, was 'deemed to represent the global need for fertility care', although it was established at a time when cross-border treatments or FER were not routinely used.

Pregnancy rates per aspiration have declined a little over the previous year, and in 2017 were calculated as 26.8% for IVF and 23.9% for ICSI, again, a discrepancy between the two which has been evident for the past few years. Rates from FER and from non-donor frozen oocyte cycles (the latter a new treatment recorded by EIM) were each higher than for fresh IVF and ICSI, at 32.2% and 43.3% respectively. However, pregnancy rates were higher when outcome was measured against embryo transfer, and especially blastocyst transfer. For example, pregnancy rate per cleavage-stage transfer was 29.3% for IVF and ICSI, but 41.6% per blastocyst transfer, with similar high-quality performance in FER and fresh egg donation.

Overall delivery rates per aspiration were 20.5% for IVF and 17.6% for ICSI, again a slight decrease on 2016 – though delivery rates for FER increased by 1.1%. Data on egg donation also saw high delivery rates for fresh and frozen embryo transfers, and for frozen oocyte replacements (up to 36.6%). With the latter presumably relying on frozen oocyte banking, Wyns noted that embryo donation is now less commonly performed. Delivery rates in IUI remain stable at around 12%.

Wyns attributed the decline in pregnancy rates per aspiration seen over the past few years to the increase in freeze-all cycles. 'We have no data yet to confirm this,' she said, but noted much higher pregnancy rates per transfer, suggesting that any 'decline' was an artefact of freeze-all. Thus, cumulative delivery rates – fresh + FER per aspiration – would appear to offer the most realistic reflection of treatment quality, which in 2017 had increased to 30.7% (from 26.9% in 2013). 'A positive evolution of the technology,' said Wyns. The same calculations also found a decrease in multiple fresh and frozen delivery rates – from 16.5% in 2013 to 12.2% in 2017.

Nevertheless, the data still show the transfer of two embryos as (just) the most common approach (50%), but with SET now just behind. The transfer of three or more embryos has declined to almost zero. Twin deliveries now account for just 14% of outcomes.

* Professor Wyns began her presentation with a brief tribute to Karl Nygren, a co-founder and first chairman of the EIM Consortium, who died earlier this year following COVID-19 infection.