ANNUAL MEETING 2020
The challenges of a freeze-all randomised trial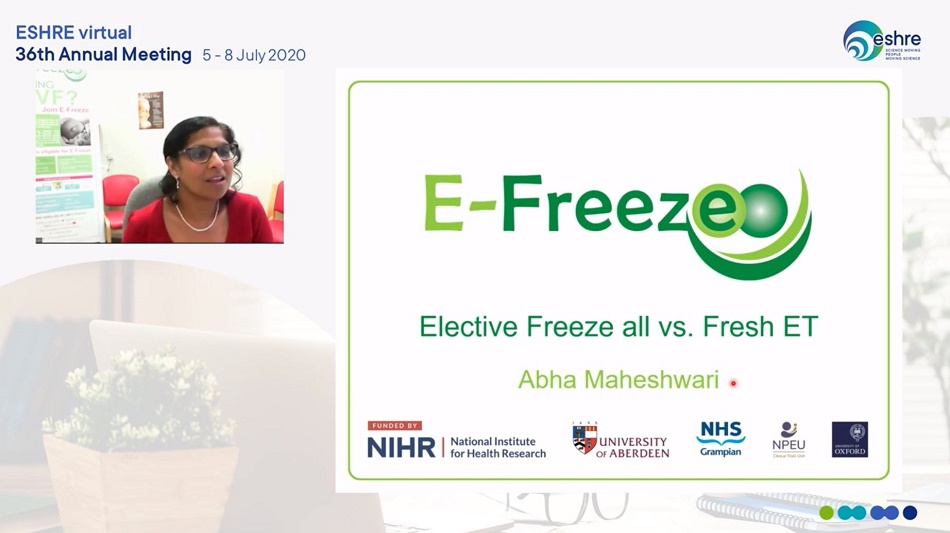 Abha Maheshwari in a breaking-news session gave an update on the E-freeze freeze-all trial in the UK.
The multicentre E-freeze trial in the UK was designed to assess the clinical value and cost effectiveness of a freeze-all approach in IVF. In a 'breaking news' session, Laurentiu Craciunas reporting for Focus on Reproduction heard only about the challenges met along the way.
Elective freezing of all embryos and transfer in a future cycle has been proposed as a potential intervention to address three aspects of IVF treatment.
* First, the ultimate aim of any fertility treatment to increase live birth rate. Previous RCTs have given some support for elective freezing in women who over-responded to ovarian stimulation for IVF.
* Second, the risk of ovarian hyperstimulation syndrome (OHSS) is higher for women who become pregnant after a fresh embryo transfer; hence a delayed thawed embryo transfer may reduce the prevalence of OHSS. This benefit has biological plausibility and again has been supported by previous RCTs.
* Third, the cumulative live birth rates between freeze-all and conventional approaches are similar; however, several questions on obstetric and perinatal outcomes remain unanswered, involving such factors as epigenetics, gestational weight, preterm delivery and hypertensive disorders of pregnancy.
The E-freeze trial is a large multicentre RCT in the UK supported by the National Institute for Health Research with £1.5 million funding to assess the clinical value and cost-effectiveness of a freeze-all policy in comparison with fresh embryo transfer in IVF. Chief investigator Abha Maheshwari from Aberdeen Fertility Centre, UK, presented an update on the study during a 'breaking news' session on the opening day of this virtual congress – but, with results still not fully analysed, the 'news' became a review of the challenges faced in conducting such a big trial for this intervention.

Young women under the age of 42 were eligible if having their first, second or third IVF cycle and had at least three good quality cleavage stage embryos. They were excluded if they used donor gametes or if they had already planned freezing for medical reasons or PGT-A. This left a total of 1604 women recruited in 18 fertility clinics across the UK. A 50% rate of non-randomisation was anticipated; however, 985 women (60%) could not be randomised because of reasons such as high risk of OHSS, insufficient good quality embryos or withdrawal of consent.

The second challenge, reported Maheshwari, arose with adherence to randomisation. Analysis so far shows that only 201 of 309 women randomised to elective freezing have actually undergone the intervention, while 283 out of 310 women randomised to fresh transfer have proceeded as planned. This rate of non-adherence is skewed towards fresh transfers and appeared to be different from patterns in previous RCTs.

The E-freeze trial was powered to meet its primary outcome, defined as a healthy term singleton baby. However, it seems likely that many of the challenges noted by Maheshwari will have an impact on the strength of its evidence - but no data were presented on this occasion. It was also reported that the authors are already planning an individual patient data (IPD) meta-analysis in an attempt to overcome the weaknesses of individual studies reporting on aggregate data.