ANNUAL MEETING 2020
Pandemic treatment delays prompt steep rise in psychosocial problems for IVF patients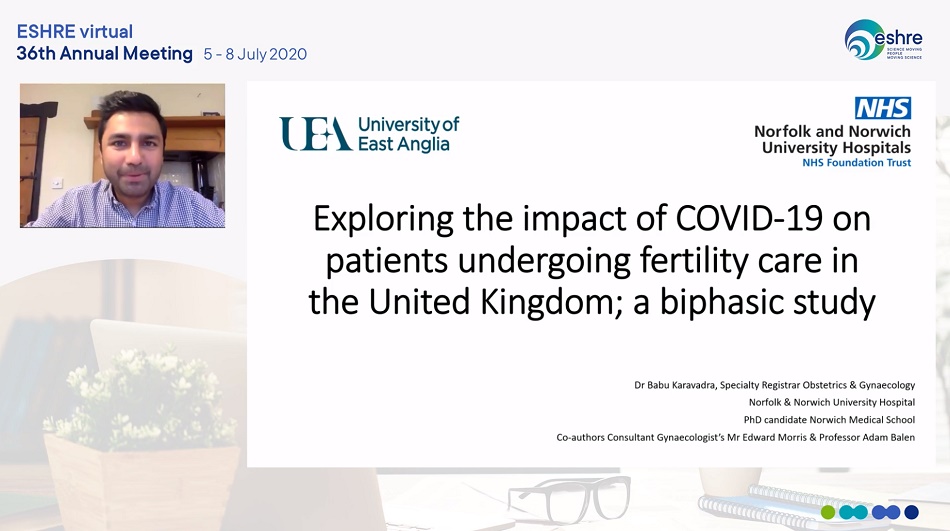 The psychosocial impact of COVID-19 delays in fertility treatment were assessed in three studies from Italy and UK.
Evidence presented from surveys of UK and Italian patients found that delays and uncertainties in treatment have been – and remain – a source of anxiety and depression for many. Priorities are proposed for resumed treatment.
Changes in the delivery of care, delays in restarting treatment and an unknown impact on pregnancy are among major concerns for patients during the COVID-19 pandemic. These uncertainties have caused anxiety and depression in some – and even suicidal thoughts in a small minority of cases.

This is according to evidence from the UK and Italy presented at a COVID-19 special session at ESHRE's online annual meeting investigating the psychosocial effects of the pandemic. Services in these two and other countries were temporarily suspended following precautionary guidance from both ESHRE and ASRM because of the unknown effect of COVID-19 on pregnancy and to consolidate healthcare resources.

The take-home message from the presenters participating in this session was that anxiety, distress and frustration have been – and remain – considerable, and that collaboration is crucial to manage these reactions. Organisations involved in fertility care, said the speakers, should come together to devise a strategy to deal long-term with the consequences of disappointment and to follow-up patients. Discussions must take place on who should be first in line for treatment once services resume, how to signpost patients to trusted and centralised sources of information, and to manage those most at risk of mental health problems.

A UK study presented by Babu Karavadra and co-authored by Professor Adam Balen and RCOG President Eddie Morris found the virus had a negative impact on fertility treatment for the majority (92%) of patients, specifically because of treatment delays. These findings were based on 422 participant experiences during the coronavirus lockdown.

Although most UK fertility services have now started to resume, said Karavadra, from Norfolk and Norwich University Hospital and an ESHRE Young Ambassador, significant doubts remain. These concerns relate to the delivery of fertility care in the UK, both short-term and in future.

His research was based partly on online questionnaires the results of which showed four in five (62%) participants felt uncertainty over their treatments and the unknown impacts of the pandemic, such as pregnancy outcomes and gynaecology services. The study design also included in-depth interviews to explore the identified anxieties. Many patients turned to online forums because of the variation in information received from clinics on when services might resume. When clinics did reopen, participants felt fertility care should be prioritised according to advancing maternal age, socio-economic background and previous unsuccessful treatments.

While acknowledging the small-scale nature of the study, Karavadra said that service providers could use the findings to appreciate the patient's perspective when fully resuming their services and 'be mindful of patient concerns'.

These points were echoed by Jacky Boivin who said clinic closures has been perceived by some patients as a 'devastating and uncertain situation that has taxed coping abilities'. This was her conclusion from questionnaires completed anonymously by 450 UK patients on their emotional response to the shutdowns.
More than four in five (81.6%) had tests or treatments postponed, leaving many feeling a sense of threat or harm, one in ten unable to cope and a tiny number (1%) expressing suicidal ideation. A strong source of anxiety arose from not knowing when clinics would reopen, explained Professor Boivin from Cardiff University, Wales. Those worse affected feared being unable to conceive because of insufficient time resulting from the delays. 'This shows we have to think who gets treatment first,' said Boivin.

The psychological impact on patients in Italy was similarly outlined by Fabio Barra from the University of Genoa. The pandemic also caused a sharp increase in the prevalence of mental health problems (according to validated scales) among infertile patients whose IVF was interrupted or postponed. Data he presented based on 525 participants from his own centre showed a prevalence rate of 22% for anxiety and 18% for depression, with women worse affected than men, especially those aged above 35.

In closing the session, co-chair Françoise Shenfield said patient follow-up and managing uncertainty were among measures that clinics should consider. 'It's important to realise how anxious patients are, and to help them as much as possible,' she said.