2020 ANNUAL ASSEMBLY OF MEMBERS
Minutes of the Annual Assembly of Members, held online on Tuesday 7 July 2020 at 18.00 CEST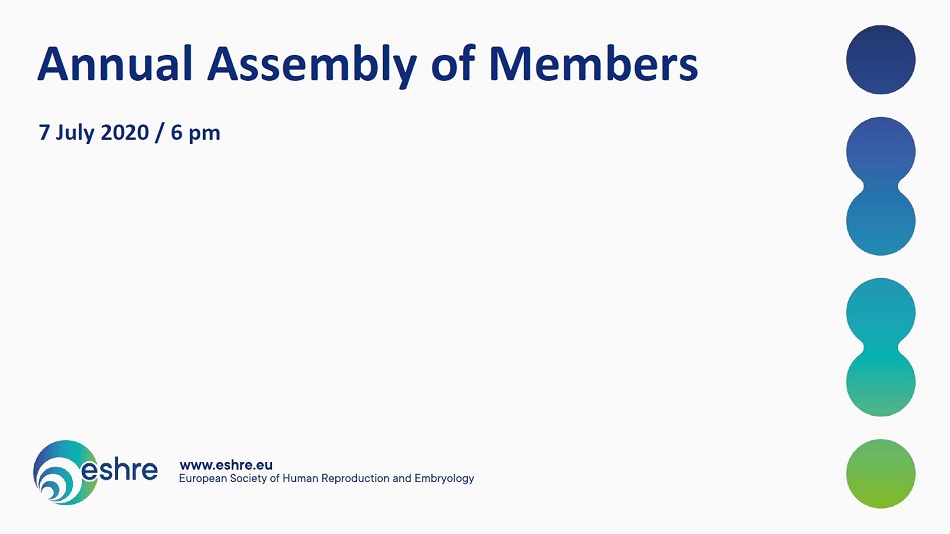 In presenting ESHRE's 2020 Annual Assembly of Members report, the Society's Chair, Cristina Magli, noted in a live introduction that the composition of slides for the pre-recording had been completed on 30 June; some of the data presented, notably in ESHRE membership numbers, would since that recording have been updated. Throughout the presentation there was a quorum of around 190 members remotely present.
1. Minutes of the last meeting held in Vienna
- The minutes of the 2019 Annual Assembly of Members (AAM), having been circulated to all members in Focus on Reproduction (September 2019), were unanimously approved in an online vote taken at the end of the meeting.

2. There were no matters arising.

3. Membership of the Society
- Membership of the Society (as at 30 June 2020) stood at 9537, an increase of 41% on last year's figure and an all-time record membership. The Chair described it as 'a terrific increase', explained no doubt by a membership requirement for online access to the annual meeting. European members account for almost two-thirds (60%) of the total. The top European membership countries are UK (755 members), Italy (540), Spain (467), Netherlands (356), Belgium (333), Germany (331), Greece (282), and Denmark (243). The USA is represented by 350 members, with India (426) now ESHRE's fourth largest national membership).

4. Society activities
COVID-19 Working Group
- A COVID-19 Working Group was formed by ESHRE on 25 March in response to the coronavirus pandemic. Its aim, amid much anxiety and doubt about the effects of COVID-19 infection on pregnancy and birth, was to monitor bibliography and published scientific reports relevant to reproductive medicine, pregnancy and newborns.
- The group is co-ordinated by Anna Veiga and was described by the Chair as 'extremely active'.
- The group's principal tasks are to keep ESHRE guidance updated, notably evident in two statements, first advising precautionary closure of fertility centres for the protection of patients, staff and resources, and later, on 5 May, to set out guidance for risk assessment and triage with a view to clinic re-openings.
- A third statement developed with ASRM and IFFS was published on 29 May explaining the societies' support for the resumption of routine fertility treatment. The joint statement was submitted for publication in HROpen.
- A webinar on treatment resumption was hosted by the Working Group on 11 May, with around 2000 in remote attendance.
- The group is currently collecting data on ART pregnancies during the pandemic and is awaiting publication (in HROpen) of a report on the pandemic's effect on clinic activities throughout Europe.
- The Chair thanked the group for its work so far and members of ESHRE's Committee of National Representatives for collecting and reporting national data on COVID-19.
- The Chair raised the possibility of establishing a research grant for projects specific to reproduction within the context of the coronavirus, a proposal already approved by the Executive Committee.

Annual Meeting
- An overall total of 12,003 registered for last year's annual meeting in Vienna, with 50% of participants from Europe,
- This year's annual meeting, the Society's 36th, was initially cancelled on 23 March. Soon after, an agreement was made to convert the event to a virtual meeting, a considerable challenge particularly for Central Office staff. The latest figures indicate an online attendance of more than 12,300; the opening keynote session found at least 1100 remotely present.
- 'There are still questions' over the 37th annual meeting scheduled for Paris next year. Answers will depend on the course of the pandemic and national directives. Presently, said the Chair, there seem three possible scenarios: a further lockdown and an entirely virtual event; a live meeting with restrictions and thus a hybrid event (limited attendance + live streamed presentations); and a non-restricted live event.
- Long-term viability of the annual meetings will have to be considered, with an eye on financial models.

Campus meetings
- The Chair reported that more than 2000 participants attended 18 Campus courses in 2019, with a further 18 planned for 2020.
- Two were held in January and February this year, but the seven events scheduled for March to May were cancelled, with four postponed to 2021. Nine further Campus meetings scheduled from September to December have been cancelled but are expected to be converted from live to virtual events.

Data collection
- The Chair praised the work of the European IVF Monitoring Consortium (EIM) and PGD Consortium. The EIM group has been collecting data retrospectively since 1997 presently from 40 European countries and is now monitoring more than 900,000 European ART cycles each year.
- Data collected for 2016 have now been submitted to HROpen, while preliminary data for 2017 were presented online at this year's annual meeting. Data collection for 2018 has a deadline of April 2021.
- A paper on 20 years of EIM data monitoring has been submitted to Human Reproduction.
- Highlights of data reported for 2016 (from 1347 reporting clinics) indicate that the number of frozen cycles is still increasing relative to fresh (248,407 FER vs 156,002 fresh), with pregnancy rates from frozen cycles still rising (from 14.1% in 1997 to 30.9% in 2016). SET continues to rise (41% of all cycles), while multiple delivery rates decline.
- An EIM report published in HROpen in February reviewed legislation and reimbursement policies in ART and IUI treatments in Europe.
- Future EIM projects include a data module on child development and consideration of new software compliant with cumulative outcomes and with EU data collection.
- Preliminary PGT Consortium Data XVI (for 2016-17) was presented in Vienna last year and will be submitted for publication later this. Preliminary data for 2018 (Data XXI) were presented online at this year's annual meeting.
- Future projects for the PGT Consortium include adapting the database to encourage increased participation.

Guidelines and recommendations
- ESHRE is involved in the development of full guidelines (high-quality evidence to support 'everyday clinical decision-making') and recommendations for good practice (where scientific evidence is 'limited').
- Six ESHRE guidelines recently published are for Endometriosis, Psychosocial Care, Premature Ovarian Insufficiency, Recurrent Pregnancy Loss, Polycystic Ovary Syndrome and Ovarian Stimulation
- Eight good practice recommendations have been published, the most recent for surgery in deep endometriosis, timelapse technology, and PGT. These will be followed soon by recommendations in fertility preservation and terminology in ectopic pregnancy. Under stakeholder review are recommendations on the ethics of preconception carrier screening.
- Ten other guidelines and recommendations are in the earlier stages of development.

ESHRE accreditation and certification
- ESHRE certification is of two types: for individuals as a reflection of their expertise and competence; and for centres as a mark of their quality of service and training. Thus, the objectives of ESHRE certification are to improve safety and quality in clinical practice and to improve training.
- Individual certification is now available to ESHRE members in embryology, reproductive endoscopic surgery, and fertility nursing/midwifery. The largest programme, in clinical embryology, had 332 applications for this year's examination, which has had to be postponed to 2021. Similarly, seven registrations for the primary level exams in endoscopy and 23 for nurses and midwives have been postponed.
- A review of ten years of certification in clinical embryology was published this year in HROpen.
- The ESHRE training programme for sub-specialists in reproductive medicine was approved by UEMS (European Union of Medical Specialists) in 2017, and first exams took place in 2018. Exams scheduled for six approved applicants this year have been postponed to 2021.
- Three centre requests for accreditation under ESHRE's joint programme of subspecialist training programmes (with the European Board and College of Obstetrics and Gynaecology (EBCOG)) have been postponed to 2021. Similarly, the on-site visits for the three centres applying for ESHRE's ART centre certification have been postponed. So far there are three centres certified under ESHRE's good clinical practice scheme, with two awaiting inspections, and eight pending.

ESHRE research grants
- Two research grants will be awarded in 2020, one of 75,000 euro and one of 200,000 euro. The former invited research projects on 'sperm freezing and function' and the latter on 'protecting and treating male infertility'.
- A total of 95 proposals were received, 64 for the larger grant and 31 the smaller. These are now being assessed (in July) before progressing to a short-list.

Exchanges with other societies
- The Chair described ESHRE's exchange programmes as 'very active', with exchange sessions planned for 2020/2021 with ASRM (at both annual meetings), Latin-American Association for Reproductive Medicine (ALMER), Asia Pacific Initiative on Reproduction (ASPIRE), FUSION 2021 with the Indian Society for Assisted Reproduction and Indian Fertility Society, Chinese Medical Doctor Association of Reproductive Medicine (CARM) and Chinese Society of Reproductive Medicine (CSRM).
- The next joint ESHRE/ASRM 'Best Of' meeting will take place in Lisbon on 8-10 April 2021.
- Fruitful collaborations continue with the Cochrane group, Fertility Society of Australia, Middle East Fertility Society, IFFS, FIGO and the Mediterranean Society for Reproductive Medicine.

5. ESHRE journals
- Speaking on behalf of the ESHRE journals, Nils Lambalk, Editor-in-Chief of Human Reproduction, paid tribute to the journals' editorial production team working from home during the pandemic restrictions. This single editorial team - for all four ESHRE journals - is supplemented by six statistics/methods editors, 134 associate editors, and 8000 peer reviewers.
- Lambalk reported that in 2019 there were 1505 submissions to Human Reproduction, 91 to Update, 392 to MHR, and 87 to HROpen. Remarkably, as apparent in other journals, the months of lockdown have seen a steep surge in submissions. In HR, for example, a milestone of 1000 submissions reached last year in September will this year be passed in July. Thus, submissions to HR were 132 in March 2019 and 148 in March 2020; 103 in April 2019 and 180 in April 2020; 104 in May 2019 and 192 in May 2020. An effect of working from home?
- Lambalk added that the acceptance rate for HR had fallen from 26% in 2012 to just 17% in 2019.
- Three ESHRE titles, HR Update, HR and Molecular Human Reproduction, have this year recorded 'stable or increasing' impact factors of 12.684, 5.733 and 3.636 respectively.

6. Financial report
- Bruno Van den Eede, ESHRE's managing director, presented the balance sheet (income and expenditure) for 2019 and the budget for 2020. Income in 2019 (9,062,117 euro) was ahead of expenditure (7,859,344 euro), leaving a favourable balance of 1,202,772 euro. However, the budget devised for 2020 was severely modified by the projected effects of the coronavirus pandemic, particularly in adjustments from a live annual meeting to a virtual event. As result the budget for 2020 projected an income of 2,525,682 euro, expenditure of 4,414,025 euro and a negative balance of -1,888,343 euro. Despite this, Van den Eede assured the meeting that 'this will not result in any financial crisis' for ESHRE. For the first time in the past five years, however, the income and expenditure account would see a negative balance at the year's end. 'We will need to explore other sources of income,' said Van den Eede, 'in case of further crises. The battle is ongoing.'
- He noted strong revenues from the journals (1,482,642 euro in 2019) and from this year's membership fees. He also thanked sponsors for their continued support at the annual meeting
- As ever, the annual meeting in 2019 continued to provide the Society's greatest source of income (73%) and expenditure (51%), which in this year's budget would shift proportionately.
- Total capital at the close of 2019 stood at 18,348,699 euro allocated to investment funds which were 'responsible and sustainable'.
- The financial report for the year ending 31 December 2019 and the budget for 2020 were approved by the Assembly members.

7. Election of honorary members
- The two nominees proposed by the Executive Committee for honorary membership in 2020 were Professor Basil Tarlatzis from Greece, a founding member and former Chair of ESHRE, and Professor Anders Nyboe Andersen from Denmark, whose work with ART registries in the 1990s helped establish ESHRE's European IVF Monitoring Consortium. It was proposed and agreed that their formal award would be postponed until next year's live meeting in Paris.
- The two nominees for honorary membership in 2021 were UK embryologist Kay Elder, who for many years at Bourn Hall supported the pioneering work of Edwards and Steptoe. She will be joined by the distinguished French gynaecologist René Frydman, whose work dates back to France's first IVF baby in 1982 and who along the way has recorded numerous 'firsts' in assisted reproduction. These nominations were ratified by the Assembly.


Any other business came from online questions on fees for journal subscription and the availability of travelling fellowships for junior members. Both would be discussed in due course. When asked about an impact factor for HROpen, Lambalk said that preparation was ongoing, but unlikely before 2023.

The next Annual Assembly will be on 29 June 2021 at the annual meeting in Paris at 18.00.