2018 ANNUAL ASSEMBLY OF MEMBERS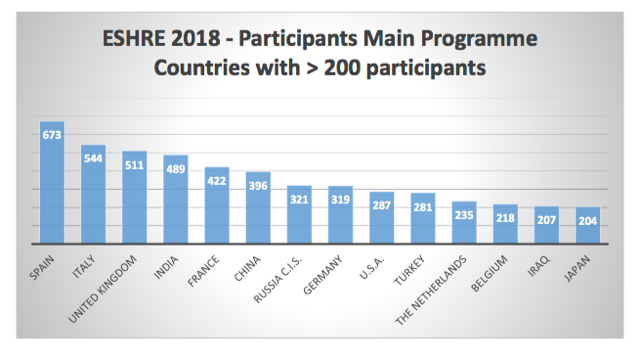 Minutes of the Annual Assembly of Members, held on Tuesday 3 July 2018, 18.00 pm, at Centre de Convencions de Barcelona, Plaça de Willy Brandt 11-14, 08019 Barcelona, Spain
1. Minutes of the last meeting held in Geneva
- The minutes of the 2017 Annual Assembly of Members (AAM), having been circulated to all members in Focus on Reproduction (September 2017), were approved.

2. There were no matters arising.

3. Membership of the Society
- Membership of the Society (as at 30 June 2018) stands at 7264, a further increase on last year's figure of 7015 and an all-time record membership. European members account for two-thirds of the total. The top European membership countries are UK (522 members), Italy (452), Spain (376), Germany (304), Netherlands (301) and Belgium (286). The USA is represented by 299 members, and India 461 (now ESHRE's second largest national membership).
- The Chairman reported that disciplines most prominently represented among members (according to SIG membership) are embryology and reproductive endocrinology, which together represent 51% of total membership. "However," said the Chairman, "SIG membership demonstrates the diversity of interests in ESHRE."

4. Society activities
Annual meetings
- This year's Annual Meeting was held at the Centre de Convencions Internacional de Barcelona (CCIB), from 1-4 July, with 17 precongress courses organised by the SIGs and exchange partners. The invited programme is already available online.
- There were a record total of 12,179 registrations, an increase of almost 2000 on 2017.
- The Annual Meeting of 2019 will be held in Vienna, Austria, from 23-26 June.

Campus meetings
- The Chairman reported that 13 Campus courses had been held in 2017, with 16 planned for 2018. Full details are available on the Education section of the ESHRE website.
- The Chairman also announced that e-Campus, the Society's e-learning platform available to members via the website, has now got more than 700 webcasts and e-posters available.

Data collection
- The Chairman praised the work of the European IVF Monitoring Consortium (EIM) and PGD Consortium. The EIM group, under the chairmanship of Christian De Geyter, has been collecting data retrospectively since 1997 from around 30 European countries and is now monitoring more than 750,000 European ART cycles each year. "We are now moving into the area of big data," said the Chairman, who described the EIM's data collection as "significant".
- Data collected for 2014 are now in press with Human Reproduction, while preliminary data for 2015 (which contain additional modules for fertility preservation) were presented in Barcelona. Data collection for 2016 has a deadline of January 2019.
- Highlights of data reported for 2014 (from 1279 reporting clinics) indicate that the number of frozen cycles has overtaken fresh cycles in IVF/ICSI (192,017 cycles for FER vs 146,148 fresh); pregnancy rates from frozen cycles have risen from 14.1% in 1997 to 29.4% in 2014. SET continues to rise (35% of all cycles), while multiple delivery rates decline. Average pregnancy rate is now higher than 30%.
- Preliminary PGD Consortium Data XVI (for 2016), the first to be collected for the new database, was presented in Barcelona. Data for 2013, 2014 and 2015 were collected in summary form during 2016 and are ready for submission.
- The PGD Consortium marked its 20th anniversary with a celebration Campus meeting in Brussels on 8-9 December 2017.

ESTEEM trial
- The ESHRE-sponsored Study into The Evaluation of oocyte Euploidy by Microarray analysis (ESTEEM), was completed in 2017 and is now approved for publication in Human Reproduction. First results of the study were reported in Geneva, with delivery rates comparable in the intervention and non-intervention arms of this randomised trial. Secondary outcome results suggested that the intervention may avoid unnecessary embryo transfers and decrease miscarriage rates.

Guidelines
- ESHRE is involved in the development of full guidelines (high-quality evidence to support "everyday clinical decision-making") and recommendations (where scientific evidence is "limited").
- ESHRE guidelines in development for 2018-19 are on ART in patients with viral disease, female fertility preservation, ovarian stimulation in ART, and as an update on endometriosis. Good practice recommendations in development for 2018-19 are in ultrasound for oocyte retrieval, surgery in deep endometriosis, key performance indicators in the ART clinic, PGT (four guides in PGT-A, PGT-M and PGT-SR), time-lapse in embryo selection, and ectopic pregnancy.
- All ESHRE guidelines are developed according to an established methodology and are published as a full version, in summary format in Human Reproduction, and as a lay version. They are freely available to everyone. They may also be produced as pocket guidelines and as an app.

ESHRE accreditation and certification
- ESHRE certification is of two types: for individuals as a reflection of their expertise and competence; and for centres as a mark of their quality of service and training. Thus, the objectives of ESHRE certification are to improve safety and quality in clinical practice and to improve training. 'Accreditation and certification are becoming a big part of what we're doing,' said the Chairman.
- Individual certification is now available to ESHRE members in embryology, reproductive endoscopic surgery, and fertility nursing.
- The ESHRE training programme for sub-specialists in reproductive medicine was approved by UEMS (European Union of Medical Specialists) in 2017, and first exams took place in Barcelona.
- Centres accredited under ESHRE's joint programme for accreditation of subspecialist training programmes (with the European Board and College of Obstetrics and Gynaecology (EBCOG)) retain accreditation for five years before renewal. New in 2018 is a certification programme for centres based on quality assessment of practice.
- ESHRE has trialled an e-exam project in India allowing participants to take the embryology certification exam in New Delhi in parallel with the exam in Barcelona.

ESHRE research grants
- The Chairman explained that ESHRE in 2018 is awarding two grants, one of 50,000 euro and one of
150,000 euro. Applicants for the first of these grants were asked in 2017 to focus on the theme of "chromosome and DNA integrity of oocytes and embryos", and for the second on "maternal determinants of embryo developmental ability".
- ESHRE received 40 proposals for the smaller award, and 71 for the larger. A second review of applications will take place in September, with a final decision made in November.

Collaborations and policymaking
- In 2018-19 ESHRE will take part in exchange sessions of the Chinese Association of Reproductive Medicine (CARM, recurring pregnancy loss), ALMER (early pregnancy complications), Indian Society of Assisted Reproduction (ISAR, single embryo transfer), FIGO (female reproductive ageing), and ASRM (embryo research). ESHRE will also hold a joint Campus meeting with the Indian Fertility Society (IFS) in September on emdometrial receptivity and a precongress at ASRM in October on fertility preservation.
- The next joint ESHRE/ASRM "Best Of" meeting will take place in New York on 14-16 March 2019.
- ESHRE is recognised by DG Santé of the European Commission as an official stakeholder, notably in discussions on revisions of the EU Tissue and Cell Directives. Also in developments of the Commission's "substances of human origin" (SoHO) ESHRE is a collaborator on the ARTHIQS guide for inspection by competent authorities, on the GAPP project of risk assessment of new technologies, on the inspection programmes of vigilance and traceability (VISTART), and on the EuroGTPII project on good practice/outcome assessment/risk grading.
- ESHRE is also a stakeholder in the Council of Europe's fourth Directorate for the Quality of Medicine (EDQM) in revisions of the fourth guide for the handling of tissues and cells. ESHRE has also provided the CofE with data in support of donor protection and information for gamete donors.
- The Chairman thanked Kersti Lundin, Cristina Magli, Carlos Calhaz-Jorge and Borut Kovacic for their work in these policy collaborations.

5. ESHRE journals
- Speaking on behalf of the ESHRE journals, Hans Evers, Editor-in-Chief of Human Reproduction, said that this had been "another extremely successful year". He reported that the editorial teams of the four ESHRE journals are supplemented by six statistics/methods editors, 134 associate editors, 4500 peer reviewers, and 14,000 authors. Their common task is to ensure "good science and clear writing', reflected in three questions: Is it new? Is it true? Do I care?
- Evers reported that from 1 January 2018, following the completion of two three-year terms, there will a new editor-in-chief of Human Reproduction (Nils Lambalk), Human Reproduction Update (Arne Sunde), and Molecular Human Reproduction (Keith Jones). Siladitya Bhattacharya remains in place as EiC of ESHRE's open access journal HROpen. Evers reported that HROpen received more than 100 original manuscripts in its first year, "better than expected" and on its way to a first impact factor.
- Evers added that the rate of HR "pre-review" rejections had risen to 38% in the past decade, with time to decision in such cases now down to 3.4 days.
- With new manuscript submissions at about 1500 per year, acceptance rate has fallen from 26% in 2012 to just 17% in 2017. Reviewing time for new submissions to a first decision is now down to 19.9 days, with most (91%) of response times from associate editors within a week.
- The three ESHRE titles, HR Update, HR and Molecular Human Reproduction, this year recorded impact factors of 11.9, 5.0 and 3.4 respectively. Downloads from HR reached an "amazing' 3.7 million in 2017.
- Evers reported that several recent innovations, notably short alerts and editor's highlights via the website, had proved popular in support of HR.
- After a "distinguished career" in the editor's chair, the Chairman thanked Evers and colleagues for their outstanding work.

6. Financial report
- Bruno Van den Eede, ESHRE's managing director, presented the balance sheet (income and expenditure) for 2017 and the budget for 2018. Income in 2017 (7,437,903 euro) was ahead of expenditure (6,512,611 euro), leaving a favourable balance of 925,292 euro. A budget similarly constructed to 2017 - to provide a "conservative" positive balance - has been set for 2018.
- The Annual Meeting continues to provide the Society's greatest source of income (67%) and expenditure (47%).
- The financial report for the year ending 31 December 2017 and the budget for 2018 were approved by the members.

7. Election of honorary members for 2018
- The two nominees proposed by the Executive Committee for honorary membership in 2019 were Professor Bart Fauser from the University Medical Center in Utrecht, the Netherlands, and Professor Eli Adashi, former Dean of Medicine and Biological Sciences at Brown University, USA. Both nominations were ratified by the AAM.

There was no other business.

The next Annual Assembly will be on 25 June 2019 at the Messe Wien Congress Center, 1021 Vienna,
Austria at 18.00.