ANNUAL MEETING 2022
In a time of war, how Ukraine sought protection of its frozen embryos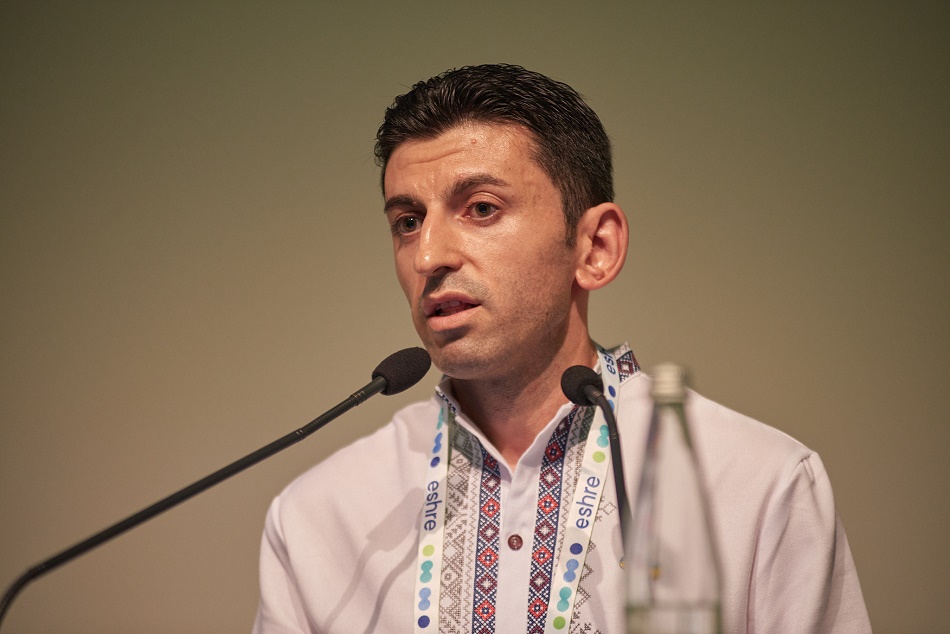 A presentation from the front line on the last day of this annual meeting explained how fertility doctors have risked their lives to transport frozen gametes and embryos out of Ukraine after the Russian invasion, and how cryostorage facilities still remain in danger.
How in a time of war and under bombardment can thousands of embryos be moved to safety? This was the dilemma and unprecedented challenge faced by fertility doctors in Ukraine when Russia invaded the country on 24 February this year. Questions such as patient consent, documentation, and even the vehicles to transport heavy freezer tanks all had to be considered as bombs fell on Kyiv and other cities, killing thousands and turning buildings, including hospitals, to rubble.

Before Vladimir Putin took the decision to attack, comparatively low prices and liberal laws around gamete donation and surrogacy meant Ukraine was a popular destination for domestic and cross-border patients seeking the chance of parenthood. This is seen in registry data and an increase in ART cycles performed in Ukraine from 1,229 in 1999 to 36,984 in 2019.

In a presentation which received a standing ovation Dr Birol Aydin, IVF laboratory director and scientific advisor at Ovogene Egg Bank, Kyiv, described the deadly impact of the Russian invasion and its effect on ART, which in Ukraine is largely provided through private clinics.

Praising Ukrainian scientists for their 'incredible professionalism', Aydin said the lesson for all clinics is that they need a risk management process and training for extraordinary situations, not just war but also for natural disasters such as fires. He also called on the international ART community to help employ the highly-skilled fertility doctors who have been forced to leave Ukraine for abroad.

He added: 'The attacks on the Ukrainian people have put human lives and the future prospects of countless infertility patients in jeopardy.' He also provided insights for the first time into how embryologists carried out the 'scary and difficult' task of protecting embryos from attack, by moving them to different cities, or out of the country altogether, including 350 embryos to Slovakia. Remarkably, the mission to transport material in cryo-storage tanks filled with liquid nitrogen was completed successfully with no damage or problems recorded during the 30-hour journey to safety.

On the day Russia invaded, embryologists rushed to freeze patient gametes and embryos at all stages of development. Aydin described how clinic staff risked their lives to transport the frozen biomaterial to secure regions within the country and even beyond when the Russian attacks intensified. The administrative part of the task was made easier because some IVF clinics had risk management policies in place and were familiar with the requirements needed to transport gametes across international borders.

However, obtaining consent directly from each patient would have been impossible. Instead, the medical and laboratory directors of clinics had to take responsibility based on general consents between patients and clinics. No distinction was made between gametes and embryos from Ukrainian patients and those from couples living abroad – all frozen material was relocated to places of safety either in or out of Ukraine.

Cars which had been registered in advance to clear customs were used to transport the material from Kyiv to Lyiv then to Bratislava. Before the move could happen, clinics had to obtain export documents and ensure they would not breach country-specific directives and local requirements around export/import. Once the cryo materials arrived at their destination, they were moved to a licensed clinic under embryologist supervision and all patients were informed about the location.

To date, around 55,000 embryos have been moved abroad, including those to Slovakia which have subsequently gone to the US, UK, Albania and other countries. However, 769,650 embryos stayed in Ukraine, of which a proportion were internally displaced, and another 25,000 have been recalled back to the country on patient wishes.

Another consequence of the war is that Ukrainian scientists have been forced to leave the country. Before, around 200 embryologists were working in 60 clinics the majority of which were in Kyiv. This workforce included a dozen ESHRE-certified embryologists, although no specialist certification was a requirement, with training mainly hands-on in labs or through three-month postgraduate course.

Today, two-thirds (67%) of embryologists are still working in Ukraine, which Dr Aydin described as an impressive number, 15% have gone overseas and 18% are unemployed. For now, it remains uncertain when former treatment patterns Ukraine will once again return to Ukraine.